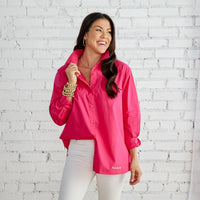 ALWAYS HAVE FUN
A bright statement pink that's playfully chic. We just love a classic crisp oversized cotton shirt. Pair it with a full stack of gold Romi Textured Ball bracelets and Palm Beach Swizzle bracelets for extra visual texture. Just like the embroidery on the shirt says... don't forget to "Have fun!"
MUST-LOVE COLOR
Embrace Spring with a rich color palette. We love the bright pops of color in this outfit. Mixing in lots of color is an easy way to be playful with your look yet still stay effortlessly chic. Add in some metallic bracelets to give your stack some added warmth.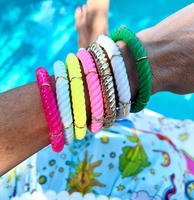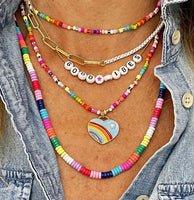 GOOD VIBES ONLY
We love the style of these brightly layered necklaces. With a rainbow of colors and just the right amount of texture, this look stands out. It's so bright and playful-- simply good vibes!
LOVE PINK
Calling all Pink Lovers! This is a must-have stack for you! We love the layered shades of pink. The splashes of hot pink and light pink add beautiful warmth to your wrist. A great stack for for everyday.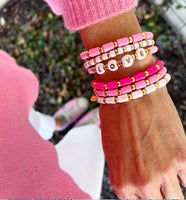 Caryn Lawn Featured Looks